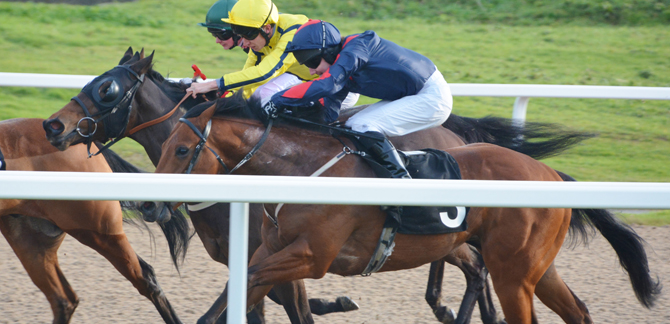 Tom Queally (Blue and red silks) riding in Stormchase gloves
Testimonials
Tom Queally – Renowned top flat jockey, most famous for riding the unbeaten Frankel
"I was approached by Stormchase to try their riding gloves for race riding. This winter I have ridden in them on the all weather tracks and they have proved  an excellent product, comfortable, slip proof and durable. I am happy to recommend them to anyone who is looking for a top quality brand".
Ryan Moore – Champion Flat Jockey 2006, 2008 and 2009 and "The Best Jockey in the World" as quoted by the BBC after his 2014 win in the Emirates Melbourne Cup
"I rode out in the Stormchase outerwear wrist warmers in the winter months last year and as they worked so well I used them to race-ride in too. I highly recommend and think they'll catch on with other jockeys. They're certainly a part of my racing attire."
Tom Goode – British Dressage Rider
"I am so happy with my black Stormchase gloves. I ride a lot of horses per day and find them very durable and comfortable with a great fit and the smart white dressage gloves have the same qualities and are perfect for competition. Please see my photograph of me wearing my white dressage gloves, competing at the British Dressage National Championships at Stoneleigh 2015, in the Gallery".
Jonjo O'Neill – Racehorse Trainer
"Last year Jacqui gave me and our two boys some Stormchase wrist/hand warmers as part of our Christmas present.As they are made from Lycra they are wind/water resistant, comfortable,  extremely warm and gloves go over  the top of them easily without being bulky.I highly recommend them to anyone who suffers with cold hands and needs that extra warmth when outside."