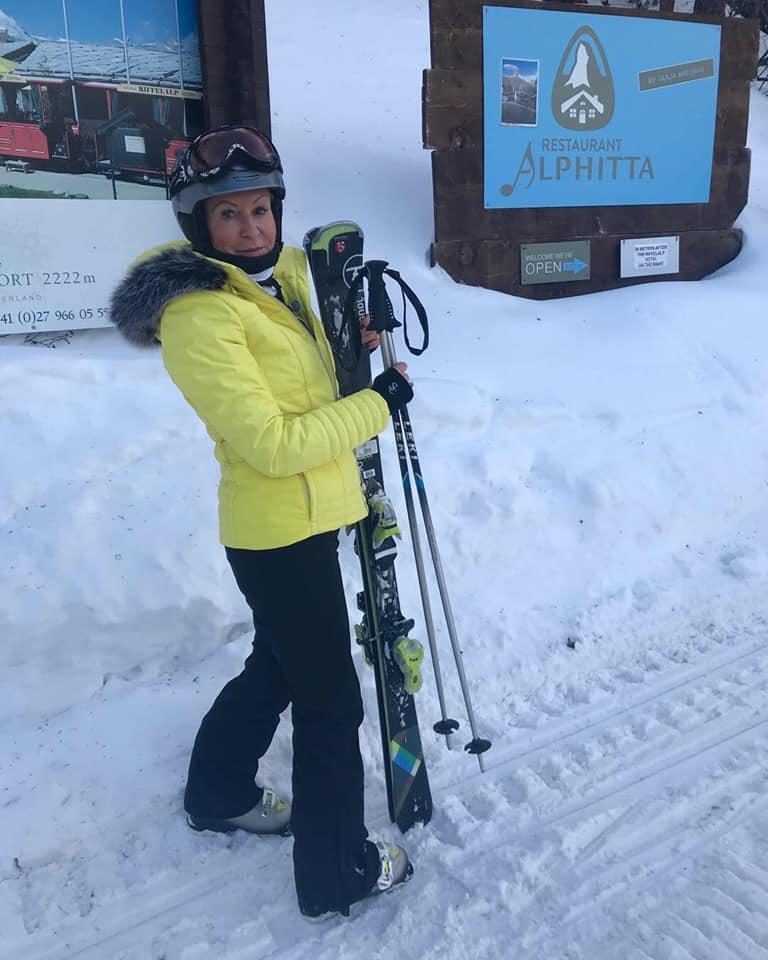 I thought you might like to know how Stormchase wrist and hand warmers came to the market.
My name is Carolyn Eddery, and I was privileged to be brought up in the world of horse racing. My father was the late Many Mercer. He was a well-respected very talented Jockey who was tragically killed at Ascot racecourse in 1959. I was 15 months old and I sadly don't remember my father. My mother, my sister and I moved in with my mother's parents, which is where I grew up. Before I could run I was out on the yard with my grandfather, Harry Wragg absorbing the world of training the racehorse!
By the age of 12 years old I was riding out with the string which I continued to do for 44 years, with various yards. I rode in ladies' race and was fortunate to be lady champion in 1987/88. My grandfather taught me well!
I was married for 30 years but due to personal problems the marriage came to a end in 2008.
I came back to my roots and started to ride out for Clive Brittain, a very well-respected trainer and a good friend. For many years during the cold months I have always worn fleece wrist warmers under my riding gloves. Sometimes I would also wear cut off socks for that extra warmth and protection!
I was riding out one morning in February 2009 from Clives yard, and it was absolutely freezing. There were about twenty of us, and we were all riding yearlings and we were heading for an all-weather gallop called the Alberhatri. We weren't galloping, but Clive liked to get us to canter for a few furlongs bunched up, similar to what you see when you watch racing without the speed!
To get to the Alberhatri we had to hack very slowly down on a sand canter. I was behind a young boy who was riding his mount with very short stirrups. Before we got to the canter I politely said to him, I think you shouldn't be riding short on a yearling because they need your leg to help guide them. He totally ignored my polite advice.
We started to hack down the sand and it was about half way down that the boy in front of me fell of his mount. Well it took at least ten minutes to catch the horse. In that time my hands went numb from the cold, even though I was wearing my gloves and cut off socks!
I was actually wondering how I was going to control a yearling weighing half a ton with no hands.I thought to myself well you have no choice but to get on with it. When we all jumped off together, I actually prayed that I would manage this without something awful happening. My hands were totally numb, but I got one hold of the reins and just got on with it. When we pulled up the blood had flowed back into my hands, but they hurt so badly, and it was at that moment that I decided to find a fabric which would protect me from the elements, to be made into wrist warmers.
It was a few years of trying different fabrics, before I finally found a technical fabric which looked and felt like it could be the answer to making my own wrist warmers. I had a couple of pairs made up and wore them for a winter. I couldn't believe how well they worked keeping me warm and dry, insulating the lower forearm really helps to create a warmer blood flow down to the fingers. I could tack up, groom and muck out wearing them without going numb, and I could wear gloves over them without any bulk in the palm of my hand when holding the reins.
After that winter I thought there must be many equestrians out there with a need for the warmers. In 2014 I brought them to the market. It wasn't until the winter of 2016 that they started to sell well. I am just so pleased that Stormchase wrist and hand warmers really do help people to enjoy their outdoor activities to the full, and it's amazing from starting out with the equestrian world how people from all different walks of life find the warmers an essential part of their outdoor kit!
Thank you for reading this,
Best wishes,
Carolyn xx