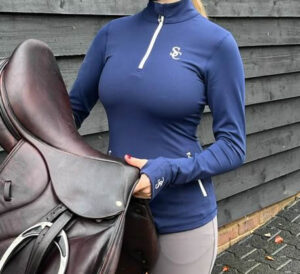 Horse riding is not just a sport; it's a passion. And like any other passion, it requires the right gear to ensure safety, comfort, and style.
One of the most overlooked aspects of equestrian gear is horse riding clothes.
These are not just any clothes; they are specifically designed to provide riders with the utmost comfort, warmth, and grip, ensuring a seamless riding experience.
In this article, we will delve into the world of horse riding clothes, focusing on the products offered by Stormchase, a leading brand in the equestrian outerwear market.
The Importance of Proper Horse Riding Attire
Safety: The primary purpose of horse riding clothes is to ensure the rider's safety. Helmets protect the head from potential injuries, while boots with a heel prevent the foot from sliding through the stirrup, which could lead to dangerous situations.
Comfort: Riding can be strenuous, and wearing the right attire can make a significant difference. Materials that wick away moisture, provide warmth without causing overheating, and allow for flexibility are essential.
Performance: Proper attire can enhance a rider's performance. For instance, gloves can improve grip, while jodhpurs or breeches offer flexibility and reduce chafing.
Essential Horse Riding Clothes and Accessories
Helmets: A well-fitted helmet is non-negotiable. It protects the rider's head from potential impacts and falls. Ensure it meets safety standards and fits snugly.
Jodhpurs/Breeches: These are tight-fitting pants designed to provide comfort and flexibility. They often come with reinforced inner knee patches for added grip.
Boots: Riding boots come in various styles, but all have a common feature: a distinct heel to prevent the foot from sliding through the stirrup.
Gloves: As highlighted by Stormchase's range, gloves offer grip and protect the hands from blisters and the elements.
Body Protectors: These are vests worn to protect the torso from impacts, especially during jumping or cross-country events.
Chaps and Gaiters: Worn over the rider's boots, they offer additional grip and protect the legs.
Why Choose Stormchase for Your Equestrian Needs?
Stormchase outerwear stands out in the crowded market of equestrian gear. Our products are not just limited to horse riding; they cater to a wide range of sports and activities.
Whether you're into golf, shooting, fishing, cycling, watersports, or even gardening and dog walking, Stormchase has got you covered.
Our primary aim is to ensure maximum comfort at all times, and they achieve this through their meticulously designed products.
Top Products from Stormchase
A perfect blend of style and functionality, these gloves are designed to offer a comfortable grip, ensuring you have full control over the reins.
This riding top is not just about looks; it's about performance. Made with high-quality materials, it ensures warmth without compromising on breathability.
For those chilly morning rides, these gloves are a lifesaver. Waterproof and insulated, they ensure your hands remain warm and dry, no matter the weather.
Stormchase believes in catering to all age groups. These wrist and hand warmers are perfect for young equestrians, ensuring their hands remain warm during those long rides.
A good pair of socks can make a world of difference during a ride. These socks are designed to offer maximum comfort, ensuring your feet remain snug and warm.
Testimonials Speak Volumes
World-class jockey, William Buick, vouches for Stormchase products.
He mentions, "Stormchase wrist and hand warmers have excellent grip, and I was impressed by how comfortable and warm they are. I highly recommend these as part of anyone's outdoor wear."
Conclusion
When it comes to horse riding clothes, Stormchase is a brand that you can trust.
Our range of products ensures there's something for everyone, regardless of their equestrian needs.
So, the next time you're gearing up for a ride, make sure you're dressed in Stormchase.
Your comfort, safety, and style deserve nothing but the best.